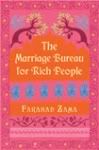 The Marriage Bureau for Rich People
By Farahad Zama
What does an Indian man with a wealth of common sense do when his retirement becomes too monotonous for him to stand it? Open a marriage bureau, of course!
Thus starts The Marriage Bureau for Rich People, a fantastic book that tells the story of Mr. Ali and his small, yet extremely popular, marriage bureau. What starts out as a part time endeavor, flourishes quickly. The book showcases a brilliant cast of characters including Mr. Ali, the careful and kind business manager; Mrs. Ali, his strong and maternal wife; Aruna the full-time assistant to the bureau who's working through her own family-and non-existent marriage-problems; and a slew of people looking for the perfect match.
The customers, albeit important, are just the background to the true story. The young Aruna cannot get married due to her family's financial problems. She works to support them and without her salary, they cannot get by. And without money, they can't pay for the elaborate wedding or necessary dowry the husband's family will expect. While that is happening, Mr. and Mrs. Ali deal with their son, Rehman, a freedom fighter who's trying to stop a giant conglomerate from building on farmers' lands. As he fights for the rights of others, he forgets the feelings of his parents. And in India, you never disrespect your elders.
An underlining theme of the book is what makes a marriage work. To this day, the caste system is still going strong in India. One doesn't marry outside of their caste, and one very rarely marries for love. Instead, through family members, an appropriate match is made. But what's better? A marriage that appeases the family, or one that appeases the husband and wife?
What I found most endearing about the book was the role of Mrs. Ali. It's common to think that the man runs the household, that he leads. But, it's the wife's job to decide if she wants to follow or not. And although Mrs. Ali doesn't go against her husband, she's extremely well spoken and does what she sees as best, even if her husband doesn't understand at first. Mrs. Ali ultimately brings two important people together - not through a marriage bureau, but through love.
Farahad Zama tells the story beautifully with rich words and vivid elements. You could almost taste the halwa Mrs. Ali cooks, see the green sari Aruna purchases, or feel the ripe mango plucked from the tree. Zama doesn't leave one description out. I can't be alone in thinking this - Zama recently won the
Melissa Nathan award
for comedy romance. He is the first male writer to receive it.
The Marriage Bureau for Rich People
is a delightful tale that's an extremely fun read. It made me laugh out loud at parts, and tear up with happiness at others. I loved how it concentrated on important elements of India, but presented them in a lighthearted manner. It's an excellent novel for anyone looking for a quick, enjoyable and interesting literary trip to India. I can't wait to read it again. I'll definitely be checking out the other books Zama has in store.